Reporting for Onside Teams
So you've got staff going out to rural properties and someone has just reported a risk or incident on one of the properties they visit, so now what? Or maybe you just need to know which properties one of your staff has visited recently.
Take a look at our quick video to find out how to report on your teams' movements, reported risks and incidents or read on below.
Properties my staff have visited
To view the history of your staff check-ins, you would use Team Locator's history.
Navigate to Teams > Team Locator
Click the 'History' button
Choose your team, date range, file format, and properties.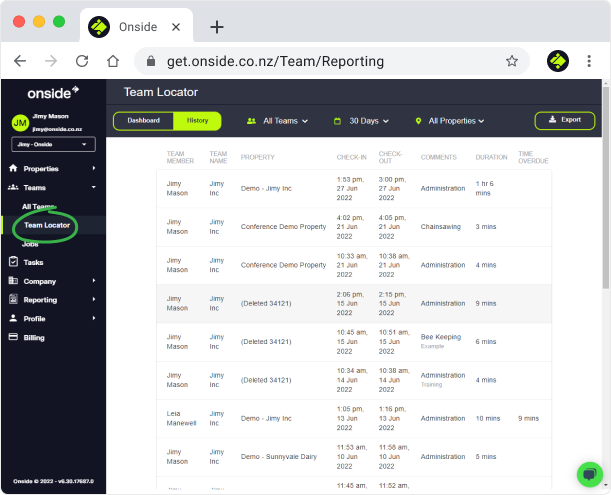 Risks and Incidents my staff have reported
Any risks or incidents reported by your staff can be reported on.
Navigate to Teams > Reporting
Choose your team, report type, file format, and date range.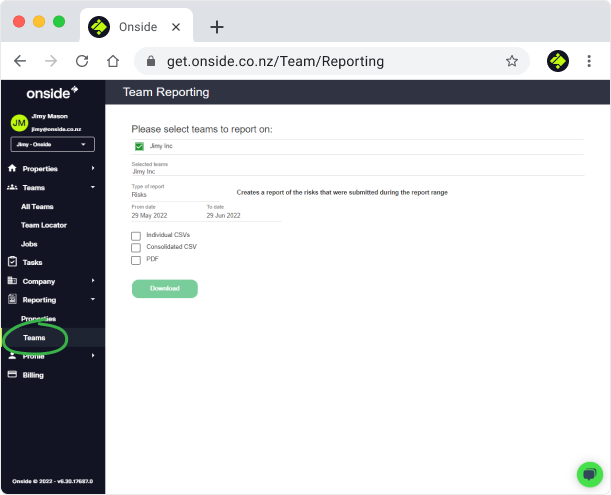 If you have any questions, give us a call on 0800 ONSIDE (NZ) 1800 112334 (AU) or email help@onside.co.nz. Click on the links below to navigate to the other tab's help guides.

Onside Teams - Managing your team
Onside Teams - Visited Properties