A quick guide on the Team Locator tab for Onside Teams
The Team Locator tab is going to be the page you frequent most. It's also the most important, as this is where most of the Onside Teams functionality is.
Take a look at our quick Team Locator video, or read on to find out more.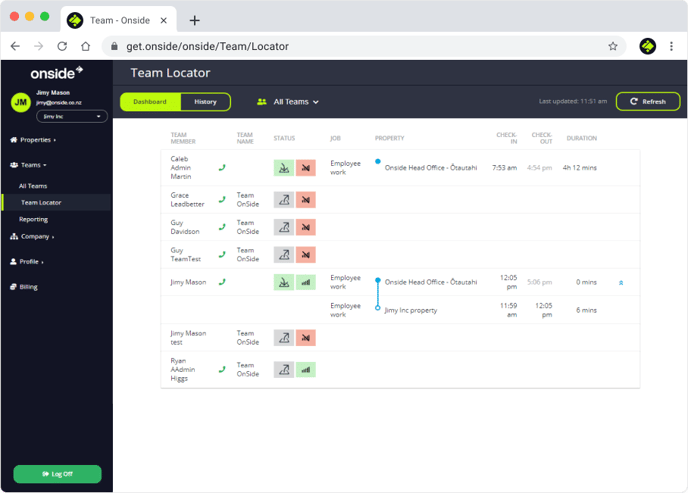 Status - Shows if the team member is currently checked in to a property as well as their connectivity status. Think of this as a kind of 'last seen'. This will tell you if they have had mobile signal since checking in. This is very helpful for situations such as the team member has missed their check out time and you need to know if this is because they have no signal, or if they might be in trouble.
Here are the different possible statuses:
Connected

- We've talked to their phone in the past 20 minutes;

Limited

- We haven't talked to their phone for between 20-35 minutes;

Not connected

- We haven't talked to their phone for over 35 minutes.
If you hover the mouse over the connectivity status, you'll also be shown the exact time they were last seen by our server.
Job - What job this team member is doing on the property they've checked in to.
Property - The current property they are checked in to. If you click on the arrow on the right side of the screen, it will show you the other properties they have checked in to that day.
Check-in - When the team member checked-in to the current property.
Check-out - When the team member expects to check out of the property.
Duration - How long they have been checked-in to the current property thus far.
You can also call the team member directly by clicking the phone icon (you'll need a calling program installed on your computer to do this. If you're viewing the dashboard on your phone, tap the icon and it will give you the option of calling from your phone's regular calling method).
Reporting
One of the best features of Team Locator is that you can generate a report whenever you need it. Click the 'History' toggle at the top of the screen.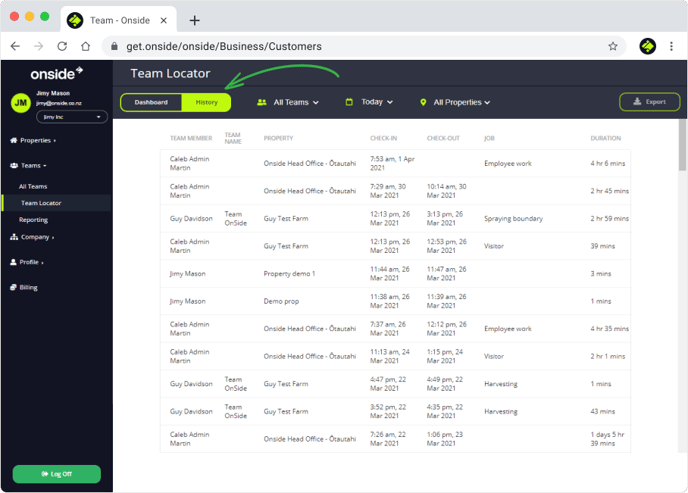 By default, when you open this screen it will show all of the current day's information, from all teams and properties. To change any of these filters, simply click them and make your selection.
Once you're happy with the information you have, simply click the green 'Export' button to get the report in Excel CSV format.

If you have any questions, give us a call on 0800 ONSIDE. Click on the links below to navigate to the other tab's help guides.
Onside Teams - Visited Properties tab