An overview of our Tasks feature and how to use it
A number of Onside customers asked us to build an easy to use task management system for vineyards, farms and orchards, as rural operations have unique needs that other task systems are not built for. So that's exactly what we did. Our tasks system is built from the ground up for rural.
With Onside Tasks you can create, assign, and manage tasks from the Onside app or the Onside Web Portal. Once you create a task, you can assign it to a team member or make it public so any Onside user can view and action it.
Property admins and the task creator will receive notifications as the task progresses.
Take a look at Onside Tasks for yourself or read on below for more info.
The Tasks board
Go to the 'Tasks' tab to show your tasks dashboard.
The board is broken down into; 'To do', 'Doing', and 'Done'.
Tasks are moved between these stages from the 3-dot icon in the top right of the task (app) or by dragging the task to another column if you are in the web portal.
Onside users can also access, create and edit tasks on their board from their Web Portal.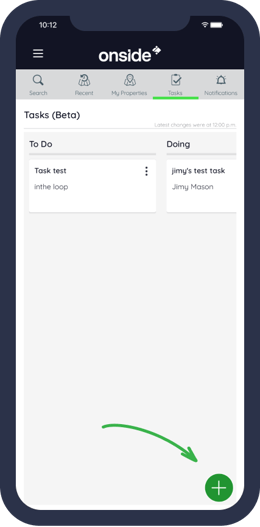 Make a new task
CREATE - Tap the + symbol in the bottom right of the screen to start making a new task.

TITLE - Give your task a title, and then a bit of information about it.
ASSIGN - Choose someone in your company who also uses Onside. You can leave it blank if you don't know who should do the task, or you can even make it public from the toggle at bottom so anyone can work on it.
PROPERTY - While checked in to a property, the property name and map will show straight away, otherwise you can search for it. You can then put a pin down for a location.
DUE DATE - Advise when it should be completed by. The date will change to red when it becomes overdue.
IMAGES - Add images you think will help.
PUBLIC - If enabled, the task will show on the map to any Onside user. If disabled, it will only show to the assignee, task creator, and the users in the property's team (in the web portal).
Once you save your task, the assignee will be notified. As the task moves from 'To do', 'Doing', and 'Done', the property admin and the creator of the task will be notified.
Note: If you are removed from the task and you are not its creator or an admin of the property, it will disappear from your board.
Editing and sharing tasks
At any time you can edit, archive, or share a task you created or were assigned right from the task board.
Simply click or tap into the task. Don't forget to save any changes you make by the 'Save changes" button at the bottom.
Tap the share button at the top right of the task (indicated right). You will then be promoted to choose a messaging app you have installed on your phone to send straight to your contractor.
The contractor then receives a link to the task information to view in a website page like this, without needing to have the Onside app themselves.
To edit or update the status of a task, your contractor will need to use the Onside app.
Who gets notifications?
Here's a quick breakdown of who will receive notifications about a task and when.
Task creator - Will get notifications as the task moves from 'To-do' to 'Doing' and then from 'Doing' to 'Done'.
Property admin - Will get a notification when a task has been created and associated to one of the properties they're and admin for.
Task assignee - Will get a notification when they have been assigned to a task.
If you have any questions or need help, feel free to email help@onside.co.nz or call 0800 ONSIDE.