The features, functionality, and access of Company Admins
A Company Admin has access to everything in an Onside company account, making it the most powerful user type. Senior staff should be assigned this access to have full control and visibility over the account. Typically this would be an Operational Manager and a Health and Safety Manager. If you are currently the Company Admin, but shouldn't be, you can change it to the right person here.
For an overview of Company Admins, check out this video. Otherwise, read on for further information
Aside from managing staff in the company as discussed in this article, having this access will also let you;
Set the end of day notifications for your company - Visitors automatically receive a message like this at the time you specify;

Property admins will be notified via the app 30 minutes later if there are still visitors checked.
Assign other company members as Company Admins.
Enable risk and incident notifications for a Company Admin for all properties.
Enable End of Day Notifications for Company Admins
Report on any and all teams and properties.
View and edit any property, staff member, or team.
Set a company job list for Onside Teams users.
I need to change my Company Admin or add another
It's quick and easy to change who is your Company Admin, but you will need to be a Company Admin yourself.
Click 'Company', then 'Members'.

If the person you want to the be a Company Admin is not in the list, invite them.

Click on 'Settings' in the sidebar, under the 'Company' option.
Add the person you just invited.

They will get an email advising they've been made the company admin. Company Admins can be removed by clicking the bin icon, but you'll need another Company Admin to do this if you want to have yourself removed.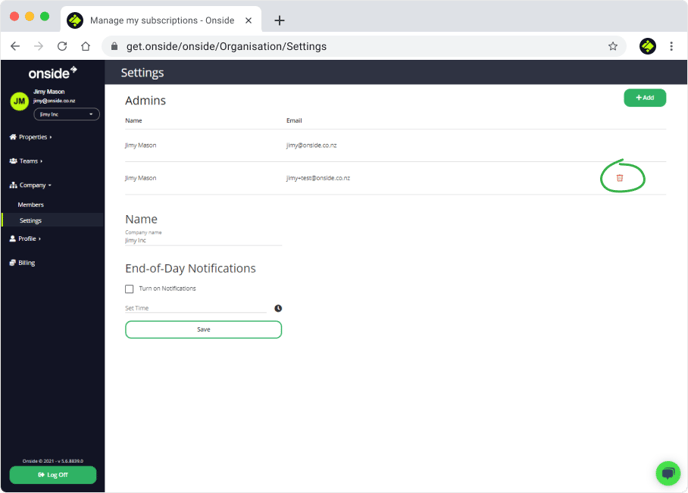 If you have any questions or need any help, contact us on 0800 ONSIDE or email help@onside.co.nz.