Another Onside solution to increase visitor check-ins
The Onside Kiosk is a simple yet effective check-in point for your visitors. Typically made available to visitors on a tablet or computer, the visitor only needs to enter their phone number to go through the property induction.
If you have the Property Essentials plan, you can access your property's Kiosk from the Onside web portal. For this solution to work, you will need.
A tablet or computer you can put in a space available to visitors;
A wifi or data connection available to that device;
Signs advising visitors to go to that device to check-in.
From there, it's simply a matter of loading the Kiosk website address for that property on your tablet or computer and bookmarking it to make it available to your visitors.
To understand more about the Onside Kiosk, watch this video or follow the guide below.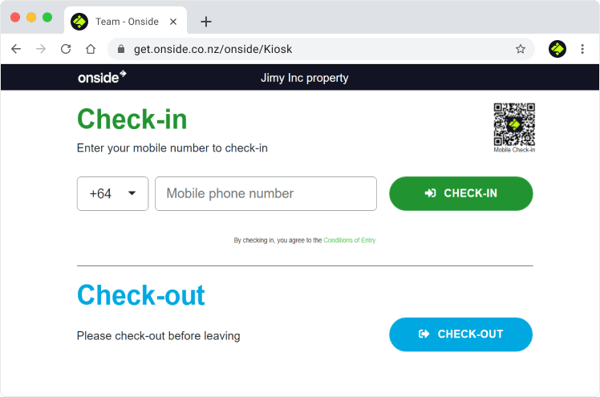 The visitor will be asked to enter their mobile number. After doing so, they will then be taken through the risks of the property. The next time they check-in via your kiosk, they will only be shown the risks that have been added or updated since their last visit. They will also have the option of viewing the risks again.
Alternatively, the visitor can also scan the QR code on the Kiosk for a contactless check-in.
If the visitor has the Onside app installed on their phone, it will take them directly to checking in to your property via the app.
Enable the QR code from the 'Kiosk' tab of your property via the web portal.
If you need help or have any questions, give us a call on 0800 ONSIDE or email help@onside.co.nz.