Check-in Questions explained for property admins
Check-in Questions is a paid feature. Contact us for more information.
'Check-in Questions' is a feature available to Property and Company Admins.
It's oriented towards biosecurity for properties.
With this feature, visitors can be asked up to 3 questions during their check-in you've added. They simply need to answer Yes or No to the questions. The answers are then recorded in the CSV version of the property's visitor reports.
The property admins can also be notified via email and app notification when the visitor responds with a "unwanted answer".
The questions will be asked on each visit and do not distinguish between staff and visitors.
Setting up the questions
Once the feature has been enabled for your account, log in to your Onside Web Portal.
Click on the property you want to add the questions to.
Click the + Button to add the question you want to ask your visitors (you can have up to 3).
Choose if you'd like the property admins to be notified if they respond with an unwanted answer.
Add the name of your questions as you want them to show in the reports, I.e 'has been sick in the last x days".
Click 'Save' in the bottom right of the screen.


Check-in questions can be copied across all of your properties using the copy button in top right of the page.
In the app, your visitors will see the questions like this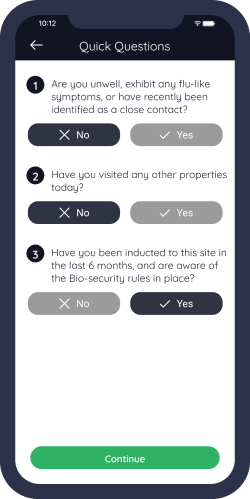 If they respond with an unwanted answer, they will get this screen prompting them to speak with the property contact;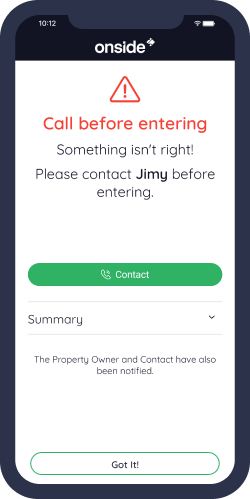 If you have any questions or need help, please reach out to us on 0800 ONSIDE or email help@onside.co.nz.