How to have documents accessible to visitors
Storing files with Onside
Using the Check-in Rules feature, you can store up to 2 files per property. These files can be in PDF or JPEG format.
That being said, there is a way you can provide access to all of the files you want to share with your visitors through Onside. Follow the steps below to do this. *note you will need Google Drive or another cloud-based file storage system.
On your Google Drive or other cloud-based storage system, create a folder and name it;
Click on the folder and then click 'Share' ;
Click 'Get shareable link';
Next to "Anyone with the link", click the Down arrow ;
Choose whether people can edit or view. For this purpose, it is essential you choose view;
Copy the link given and paste it into the Check-in Rules hyperlink field.


When checking in to you property, your visitors will see these linked rules in green font, like the image below. They simply need to tap the link.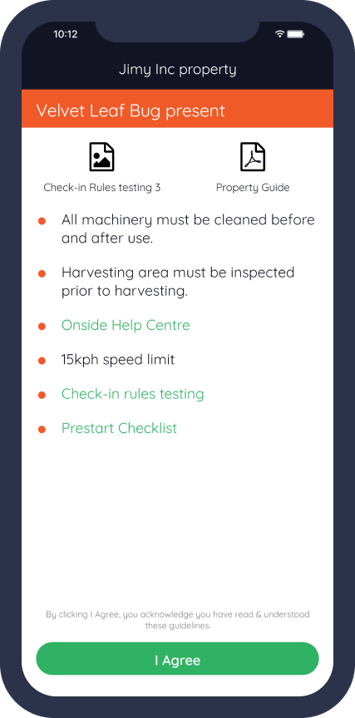 Note: The above steps are intended for documents you would like to be made public. No confidential or sensitive documents should be used in this process.
If you have any questions or get stuck with this, feel free to contact us at help@onside.co.nz or by giving us a call - 0800 ONSIDE.