Managing your risk (hazard) register
With Onside, adding a risk is quick and easy, ready for your visitors to view. You can even copy your risks across properties to save time!
Check out this video to see how easy it is to set up your risk register.
1. Getting started
Click on the green plus on the right side or the 'Add your risks' button and a popup will appear.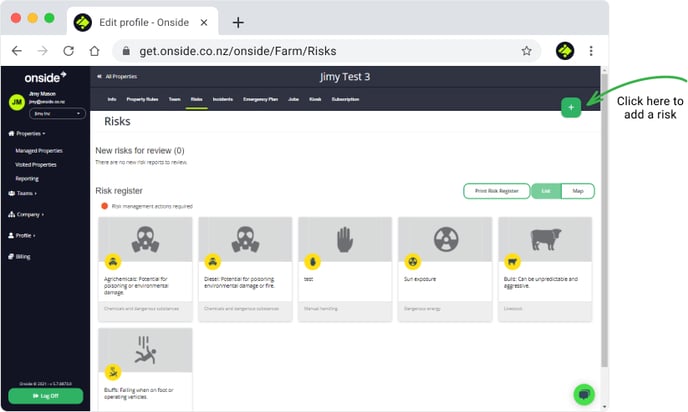 Under 'Enterprise types' there are a few templates of risks that we've put together. Here you will find the most common risks for your type of property.
Missing a risk? Check to see if it's under one of the other enterprise types.
Alternatively, you can create a risk from scratch too, simply start in the right column.
After finding the template you want, click 'Add' and the information about that risk will be added to the right hand side of the window.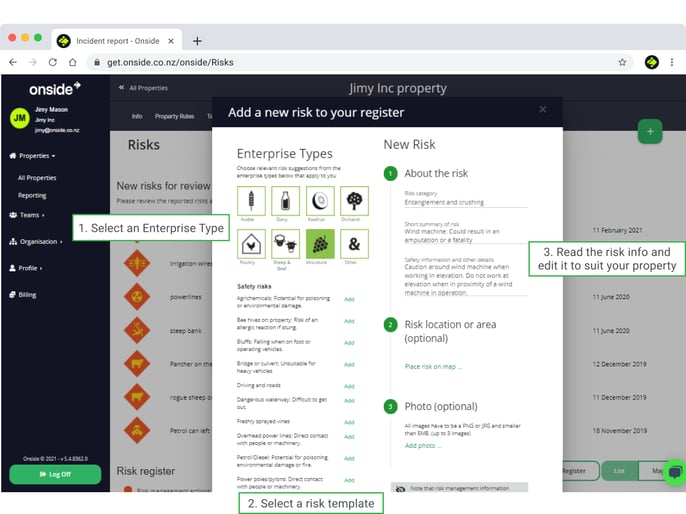 Read through the risk information (on the right column) and edit to suit your operation.
2. Risk location or area
Placing a risk on the map is optional. If you don't show on the map where it is, it becomes a "Property-wide risk". These will be displayed to the visitor after tapping the 'View other risks' button when checking in (as shown below). Keep in mind when choosing how you want the risk displayed, risks shown on the map are treated as more serious.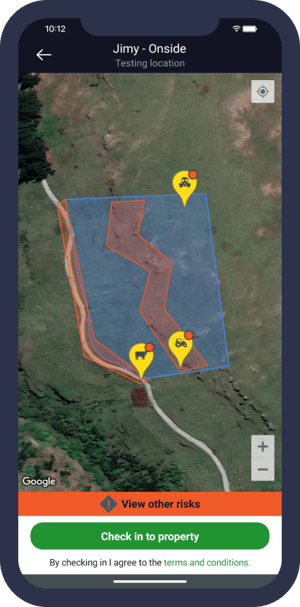 Placing a risk on the map is very easy to do;
Click 'Place risk on map…'.
Select either 'Pinpoint a risk location' or 'Draw risk boundary'.
Click on the map where you would like the risks to go. If you use the Draw tool, you'll need to click on your starting point to close the shape.
Click 'Save'.
You can only select one location on the map. If you want a risk in two places you will need to create another risk.

To map risks for rivers or powerlines, we suggest doing this. Add points along one side, then cross over and continue on the other. Return to the first point to finish.
3. Photo

This step is also optional but visuals naturally stick with us longer, so your visitor is much more likely to remember it. When you take your photos, remember to take them in landscape style. This suits the photo format best. You can add up to 3 photos per risk.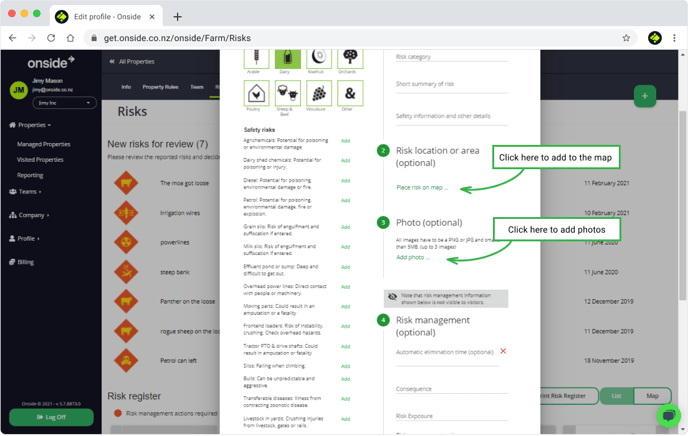 To add a photo click 'Add photo…'
Select the folder you would like to upload a photo from.
Select a photo and click 'open'.
Adjust the photo to suit.
Click 'Looks good'.


4. Risk Management
The Risk Management section is completely internal to your team. Only the admins of the property or the company admin(s) will be able to access this information. It is used to track the ongoing actions you are actively undertaking to manage the risk and reduce an incident from occurring.
You can use the "Automatic elimination time" to create "time-based risks", which will eliminate themselves from the risk register at a time set by you.

If you want to change the Consequence or Risk exposure for the risk click on the drop down arrow next to each category.
Read through the management actions. If you don't plan to do an action click the red X beside the management action and it will be deleted.
Click on 'Add another action…' to add more. Each action should be a new line.


5. Actions Completed
Have you completed all the actions?
Tick the "I have completed all the actions" box, then select if it has been minimised or eliminated. If you eliminate a risk it will be removed from the risk register.
Alternatively, you can skip this and it will leave a red marker on the risk time to remind you to come back and finish it later.
Save your risk and you're all done! Ready to add another.

If you have any questions or need any help, call us on 0800 ONSIDE or email help@onside.co.nz.