Adding and removing a property in Onside
Getting your property set up is super quick. It takes only a few seconds to set up its boundaries. Take a look at this video to see how easy it is.
You can create your property directly from the Onside app or follow the instructions below for the web portal.
Add property from the web portal
Step 1: Log in
Log into the Onside web portal via our website. The page will look like this.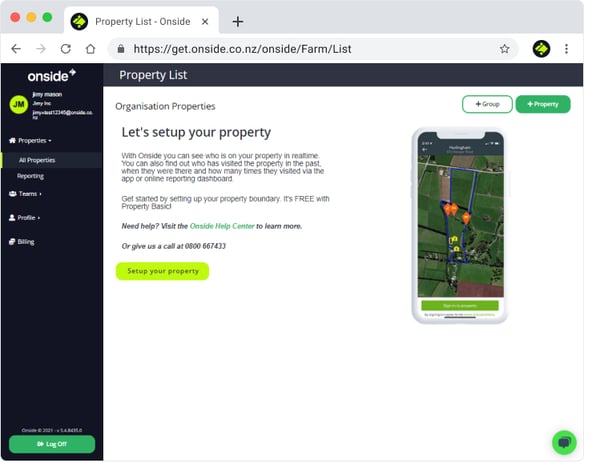 Step 2: Your property details
Most pages in Onside have a green button in the top right of the page. On this page it will let you add a new property, on the risks page a new risk, and so forth. Click the green +property button and enter your property details.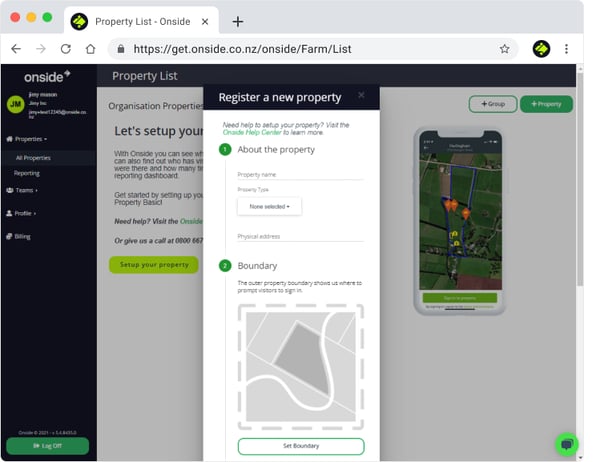 Step 3: Set up your map
To make setting up your property easy, we have the LINZ titles uploaded into the system. All you need to do is click on the map and that title will come up.
Click on the map to select a title
More than one title? Click on the map as many times as your need to select all your titles. If the title boundaries don't suit, you can use the draw boundary option instead. Drag the white boxes to expand or reduce the boundary too. Use 'Clear boundary' to start from a blank slate.


When you're happy with how it looks click "Save".
Step 4: Register property
You can add a picture now if you like, or come back and do that later. You'll need to have a picture saved to your computer. We recommend one of your front gate.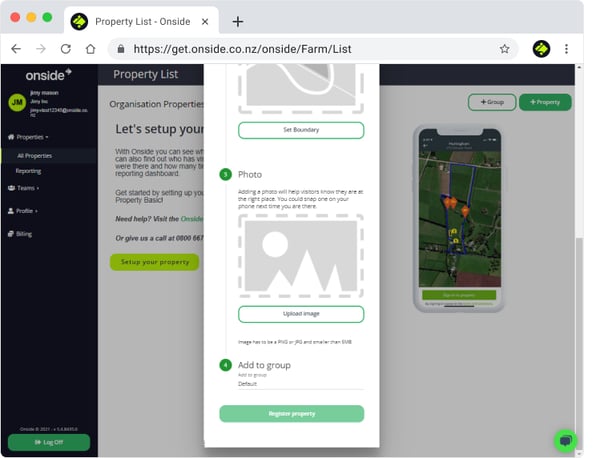 Company admins also have the option of adding the property to a group. Think of groups as folders to help organise your property page if you have many properties. As a Company admin, you will need to create a group first by clicking the 'Group' button right next to the property button on your property page.
That's it! Click 'Register property' and you're ready to add some risks to your property.
Delete a property
If you need to delete your property, go to the 'Info' tab of the property, scroll to the bottom and click "Delete property". Be aware, this will erase all of its history too.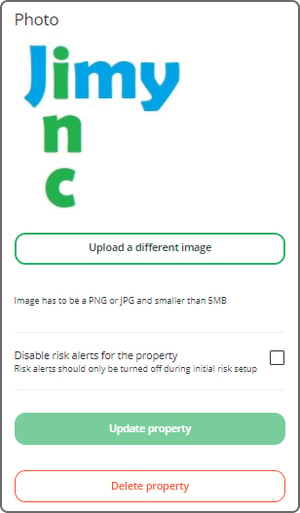 If you need any help or you have questions, give us a call on 0800 ONSIDE or email help@onside.co.nz.