Understanding each severity rating for your risks in Onside
When setting up your risk register, each risk you add will have a 'Risk Management' section. This is completely internal to the admins on your account and not visible to visitors.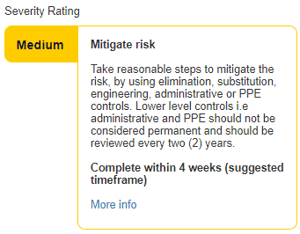 Within the Risk Management section, you'll find the Risk Severity Rating.
The risk severity rating is important because it advises you and your staff what level of action needs to be taken and how urgently. You would treat a low risk very differently to a critical risk after all.

The risk severity rating calculation is based on the Consequence and Likelihood chosen, as per this matrix;

What are the definitions of the levels?
Consequences
Insignificant - No or minor injury, no first aid required.

Minor - Minor injury, first aid treatment required.
Moderate - Injury, possible hospitalisation, days lost.
Major - Immediate hospital transfer or multiple serious injuries.
Extreme - Fatality(s).
Likelihood
Rare - Could occur under combination of circumstances.
Unlikely - Possible but unlikely.
Possible - The event might occur.
Likely - The event will likely occur.
Almost Certain - The event has a very high chance of occurring.
What should I do for each severity rating?


| | | |
| --- | --- | --- |
| Critical | Immediate action - isolate scene - investigate, controls. Eliminate, substitute or engineering controls. | Resolve within 24 hours |
| High | Act immediately to mitigate the risk. Either eliminate, substitute, or engineer controls. If these controls cannot be implemented immediately, set a timeline and put interim risk reduction plans in the meantime. Apply time to resolve. | Resolve within 2 weeks |
| Medium | Take reasonable steps to mitigate the risk, with elimination, engineering, substitution, administrative or PPE controls. Lower level controls should not be considered a permanent strategy and must be reviewed at least bi-annually. | Resolve within 1 month |
| Low | Take reasonable steps to mitigate and monitor the risk. Permanent controls can be administrative in nature. | Resolve as practical, within 2 months |

For a more in-depth look at the legislation around control measures, as per the Health and Safety at Work (General Risk and Workplace Management) Regulations 2016, click here.
If you have any questions or need some more help, reach out to us on 0800 ONSIDE or help@onside.co.nz.