Dividing your property by blocks
For most rural operations, properties are divided into blocks to improve efficiency and management for both the contractors and staff. This functionality is available in Onside, right on your property map.
Setting up your blocks
Log in to your Onside web portal.
Click on the property you would like to add blocks to.
Click the 'Blocks' tab.
Click the 'Add' button in the top left and start to draw out your block, clicking to create each point. When you've drawn your block, click the first point again to complete the shape.
Add the details for the block; name, type, reference (E.g Kpin), notes, and colour.
Click 'Save' and you're done! Ready for your contractors and staff to see and interact with. If you need to make any changes, simply double click on the block.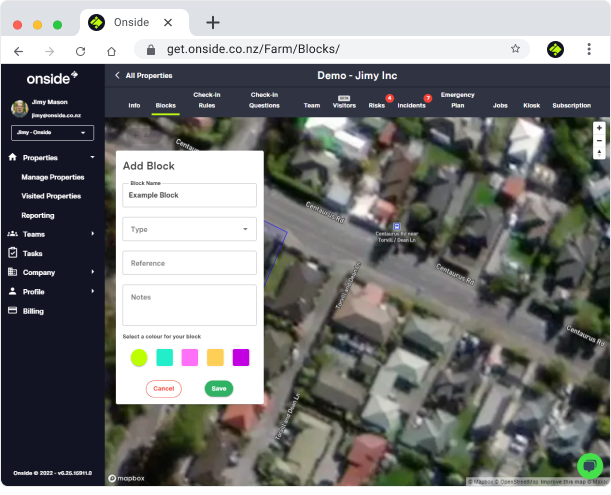 What will it look like in the app?
The blocks will look exactly as they do in the web portal, overlaying the blue property boundary. The only differences will be that risk and task pins will also be on the map.
Tapping on the block with bring up its card, tapping or swiping the card up will reveal its information (as shown right).
If you have any questions or need any help, feel free to contact us on 0800 ONSIDE or at help@onside.co.nz.