Get your visitors checking in.
There're two ways to get your visitors checking in. Share a property lets users check-in now, even without the app. Or you can invite visitors to get the app.
Share a Property
If you have a visitor standing at a gate, share the property with them to get them checked in, quick smart.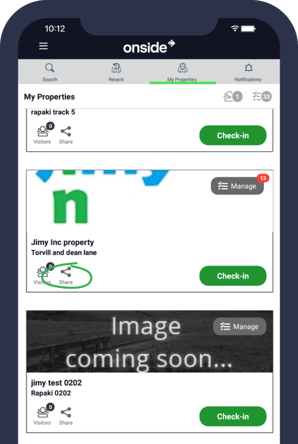 When you tap the share button, you can select your favourite messaging app, and share it. Use any app you like including Facebook, txt messaging, Whatsapp, etc.
The recipient can follow the link and check-in straight away in their browser, with no app download needed. This link allows the user to only check themselves in/out of your property, making their first visit even easier. If they close the browser or restart their phone, they can come back to the same link and check-in or out whenever they need.
Invite Visitors
Nobody likes hosting a party and having no one turn up. The same can be said for setting up Onside and not having any visitors.
Having your contractors and visitors using the Onside app will help you to get the most out of Onside. It's free for them, and there's a quick and easy way for you to tell them all about it.
If you have your visitors' phone numbers on your smartphone, you can invite them to use Onside directly from the app in a few easy steps;
Tap on the picture of your property in the Onside app under 'My Properties';
Tap on the 'Invite Visitors' button;
Accept permission for Onside to access your phone's contacts;
Select the contractors you want to invite;
Tap 'Send SMS' and the send icon when the invite txt pops up.
That's all there is to it. If you still need a hand, here's a quick how to video
If you have any questions, feel free to call us on 0800 ONSIDE or email help@onside.co.nz