Setting up your Kiosk on an iPad
We're excited you're giving the Onside Kiosk a go. The Onside Kiosk is a check-in system included in the Property Essentials subscription designed to run on tablets. This is a great way to capture your visitors check-ins if they don't have the app on their phone. This can also be used in offices, wineries, and seminars.
Below you will find a step by step guide on how to set this up.
To set up you will need
An iPad to run the Onside Kiosk on. It will also work on most computers and smartphones. However, if you do choose to use one of these other devices, we may not be able to offer the same support and user experience.
If you're using an Android tablet, try this article.
Have a power source for the device to be plugged into.
Internet connection for the tablet.
Signs or notices directing visitors to go to the shed/office/house to sign in.
Your property's unique URL.
Setting up an iPad for your Onside Kiosk
Watch the video below to see how to set up your device.
Add the Kiosk to your tablet's homescreen
Hold your iPad in landscape mode.
Open Safari web browser and log in to your account via the Onside website.
Tap on your property and navigate to the 'Kiosk' tab.
Tick the checkbox if you'd like to show a QR code on your Kiosk for contactless check-ins.
Tap the 'View' button and wait for your page to load, making sure the Kiosk shows the correct property name. If it doesn't, please let us know.
Click on the box with the arrow pointing up next to the address bar. Select "Add to home screen". We also recommend bookmarking the page.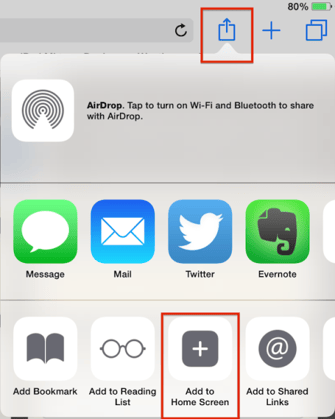 Give your page a name e.g. Willow Park check-in, click "Add" and then click your home button to close the page.
You should now see a new icon on your home page. Click on it to open, the address bar at the top of the screen should now be gone.
Step 2: Set up Guided Access
In order to lock your tablet to the Onside Kiosk so visitors don't go into things they shouldn't, you'll need to enable and set up Guided Access.
Open your Settings -> Accessibility -> Guided Access.
Enable Guided Access.
Go to 'Display Auto-lock' and set to 'Never'.
Tap on Passcode settings -> Set Guided Access Passcode. This will mean that only people with the code will be able to get out of guided access when it's on.
Go back to your home screen and open up the icon we set up above.
Press your home button 3 times quickly.
The first time you do this, it should ask you to choose your settings. If it doesn't come up, push your home button 3 times and enter your lock code.
Tap on the 'Options' button in the bottom left and disable Sleep/Wake button and Motion.
In the the top right corner of the screen click "Resume".
When you want to get out of this, press the home button 3 times and enter your passcode to exit, then click end. To restart click home 3 times again.
Extra Kiosk features
From the Onside web portal, you can activate these features for your visitors.
QR code - Give your visitors the option of a contactless check-in by making the QR code check-in available on your Kiosk.
Who are you here to see? - Visitors will be able to choose who they are on your property to see. That person will then receive an email and notification to let them know.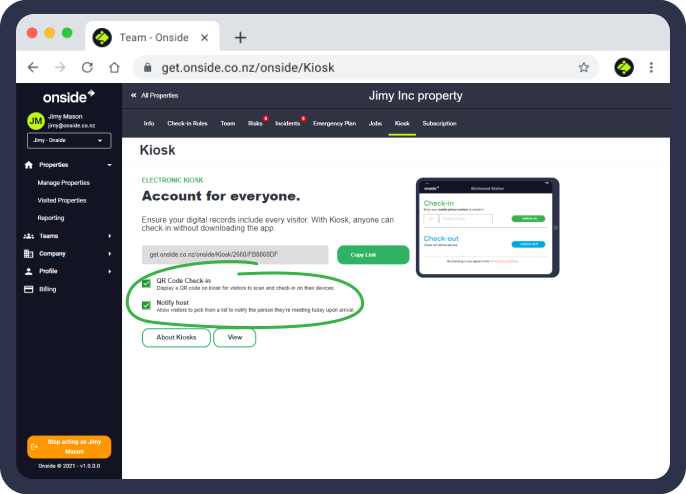 That's it. Now you're good to go for people checking in and out of your property with the Onside Kiosk. Give it a try yourself to see how easy it is.

If you need any help with the setup, please call us on 0800 ONSIDE or email help@onside.co.nz.