Add a team or staff member to your property
Adding staff to your property allows them to see who is on the property, get notifications when a visitor checks-in or out, risks or incidents are reported, unwanted check-in question responses are given, as well as determining what they should be able to access.
This guide explains how to add a team member. Contractors and visitors are invited separately. If you need help getting your contractors onboard click here.
Before you can add a team you need to have your property set up. It is also useful to have a few risks in the system so there is something for your team to see.
Select a property
Select the property that you want to add a team member to. You can add the same person to more than one property, however you will need to add them individually to each property.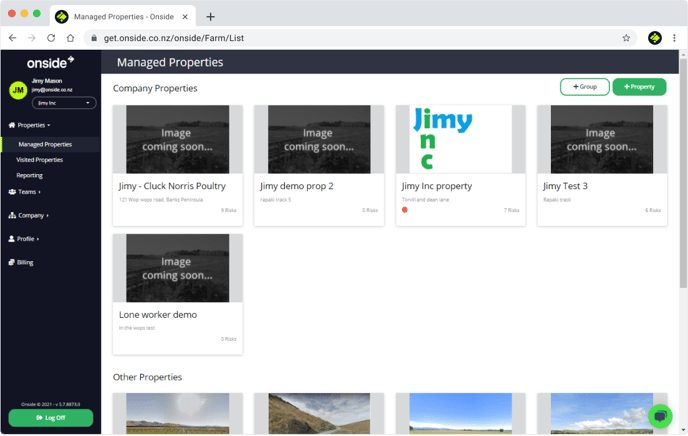 Select the 'Team' tab and click on the green invite button.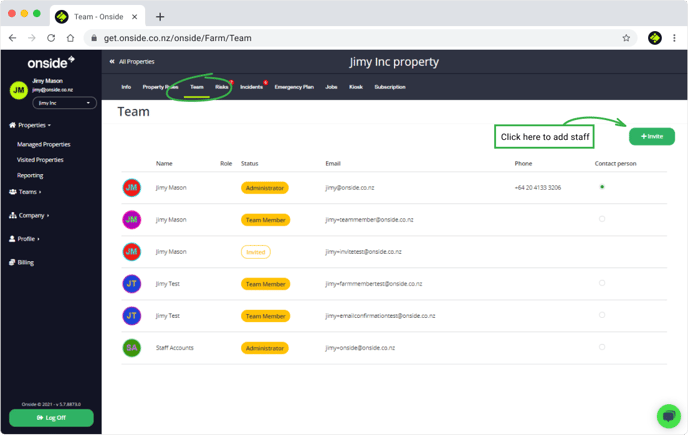 Enter your team member's details
Name and email address are required, keeping in mind that each user must have their own unique email address.

Job Role
This detail is optional, If a team member has a title (e.g. Manager, 2IC) you might want to add it. This is helpful if you have many staff.
Status
Administrator - If you tick the 'Has administration rights' box, that person will have access to reporting on the web portal, make changes to the property, receive alerts, and access the property's visitor list.
Ticking 'Disable check-in/out notifications' will disable check-in/out notifications from visitors for this person on this particular property. They will only be alerted when a risk or incident is reported or added.
Team member - If you don't give a person administration rights, they'll show as 'Team member'. They'll only get property notifications if they're checked in to the property when visitors check-in/out or report risks/incidents. The properties they're part of will also show in their 'My Properties' list and they will have access to the property's visitor list.
All done, you have now added your staff. They'll receive an invite prompting them to set download the app. You'll also be able to see who still needs to download the app with the 'Invited' status.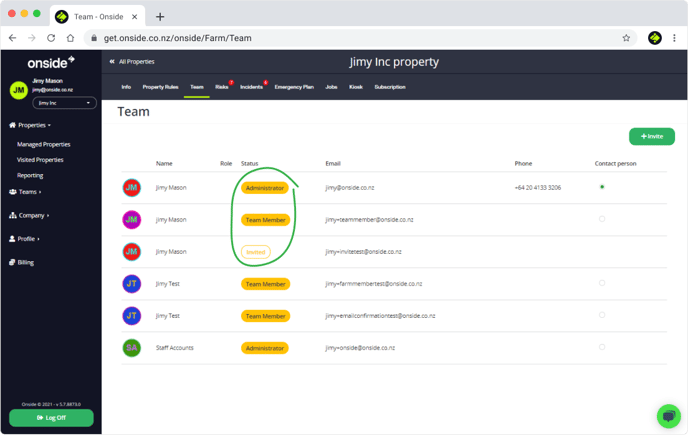 Choose a Property Contact
By default, the person who sets up the property is the property contact person.
Visitors signing into your property using the phone app will have access to the property contact phone number so they can be called if need be. They will also get weekly visitor reports for the property.
Select the contact person by simply clicking the circle at the end of the row.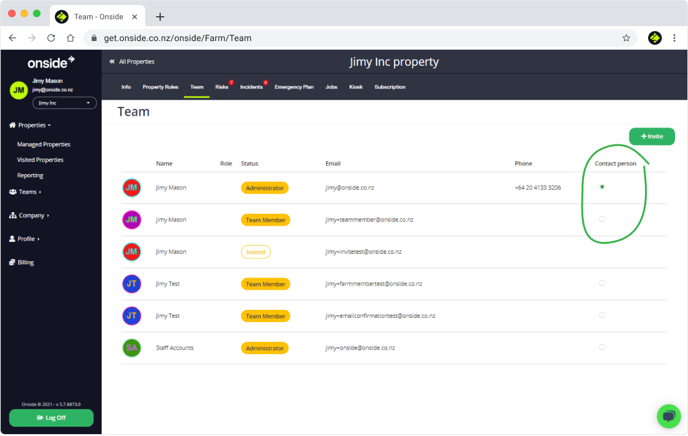 Update staff information
To update your staff's details, you just need to click on their name. The only part you cannot edit is the email address.
Next steps
If you have any questions or need any help, call us on 0800 ONSIDE or email help@onside.co.nz.