A quick guide to one of our clever features
You may have encountered 'Onside AutoMode' whilst exploring the app, which hopefully piqued your curiosity immediately.
Onside AutoMode is a feature in development currently available on Android devices for testing. Once it's finished, it will significantly help visitors going to properties remember to check-in and check-out when visiting.
If turned on, and you have your Location Services enabled, AutoMode will detect when you're within an Onside property boundary and remind you to check-in with an app notification. The same will occur when you leave the property.
You don't have to worry about getting notifications as you're driving into or through the property though, our clever development team have baked in specific criteria for AutoMode to send these notifications, such as the speed you're travelling and the distance within the boundary. You also won't get the notifications if you've already checked-in/out.
So why only remind the visitor? Why not automate the check-in?
The core idea of Onside is that you're made aware of the risks of a property when you're visiting and, by doing so, you make yourself safer. By automating your check-in you wouldn't see the risks and therefore would be putting yourself at risk.
Alright, I want to use AutoMode, what do I need to do?
As mentioned above, you'll need to have your Location Services enabled for Onside. This is found under your phone's settings. 'Location' for Android users, and 'Privacy' for Apple users.
After that, it's a matter of simply turning it on. You can find the switch within the Onside menu*;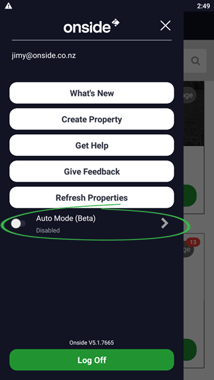 Once you turn it on, you will be prompted to choose how you want to use it. You'll have two choices, 'Always run' or 'Only run while plugged in'. Choose which ever option best suits how you use your phone when travelling. If you charge your phone whilst you drive, choose 'Only run while plugged in', otherwise 'Always run' would suit better. You will also be able to disable AutoMode from this screen.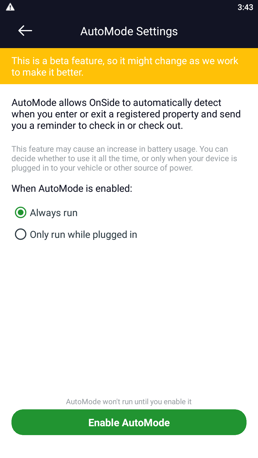 If you have any question about AutoMode, or Onside in general, feel free to give us a call on 0800 Onside, or send an email to help@onside.co.nz.

* Please note: Onside AutoMode is currently only available for Android users.