Using Onside to protect against COVID-19
With ongoing global COVID-19 pandemic, it's now more important than ever to know who is visiting your property.

To help you prepare, we've created this quick help guide with some steps you can take with Onside to help minimise the risk of Coronavirus spread.
Real-time information
Because visitors can check-in right from the Onside app, they don't have to go to a shared space, meaning less chance of coming into contact with others. They will also be able to see who else is checked in and communicate with them right from the Onside app, reducing face to face contact.
Check-in Rules
Some properties have different procedures around dealing with COVID-19, fortunately you can relay information specific to your situation directly to your visitors using Check-in Rules.

Rules will be displayed to every visitor during check-in. We recommend adding information specific to your own property if you have any, i.e. location of hand sanitizer, who you should advise if there are sick visitors, etc.
If you're not sure how to get started, click here.
Check-in Questions
A new feature to help protect against the spread of COVID-19 is our Check-in Questions feature. Whilst still in development, we can enable this feature on a case by case basis. This will be a paid feature.
With this feature you will be able to ask your visitors up to 3 questions. Their responses are then added to your visitor reports (currently only csv format).
If their answer puts your property, staff, or visitors at risk, it will notify the Property Admins and advise the visitor to stop and contact the Property Contact directly.
Find out more here. If you're interested in this feature, please reach out to us.
Risks
If you have an isolation area for seasonal workers coming into the country you can add a risk to map the location and make everyone aware.
Adding risks is quick and easy, follow these steps if you're not sure how.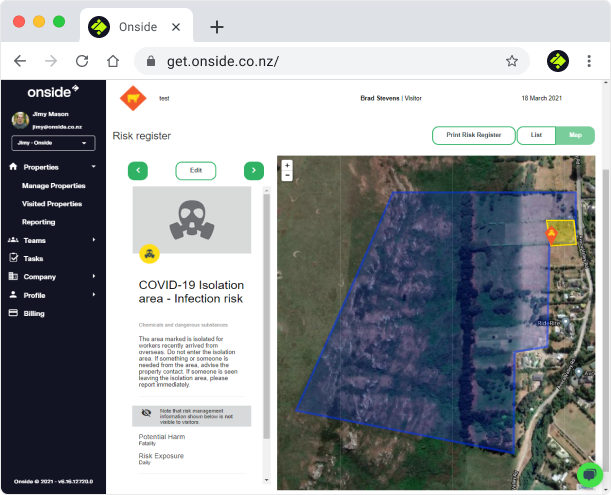 Visitor reports
Knowing who has been on your property is also key for contact tracing. At any time you can check who has checked in to your property, their contact info, and check-in/out times. Generate a visitor report from your Onside web portal, or view in real-time by tapping on your property image under the 'My Properties' tab in the Onside app.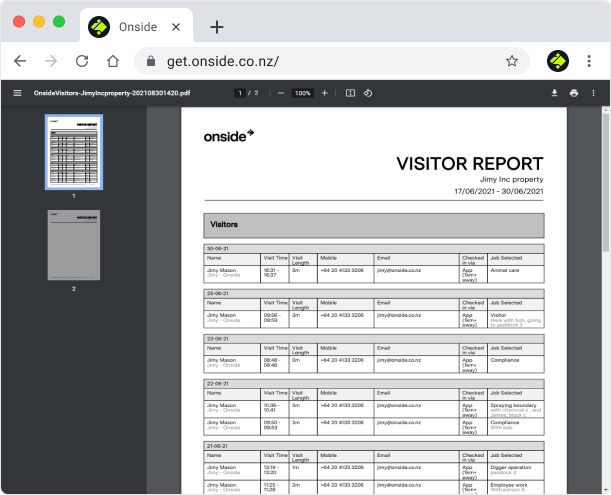 Property Chat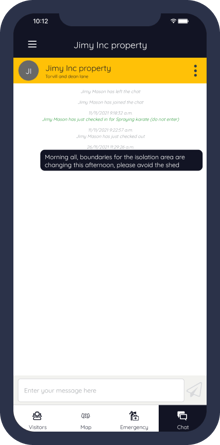 Onside Chat allows you to broadcast a message to everyone checked in to your property.
Visitors will receive a notification when a new message has been sent while they're checked in to the property.
Admins of the property will receive notifications of new messages as they happen, without having to be checked-in.
To use chat, tap on your property in the 'My Properties' tab in the in Onside app, then click on the chat icon located at the bottom right corner of the screen.
If you have any questions or need any help, please reach out to us on 0800 ONSIDE or help@onside.co.nz. If you have any tips not listed here you're using to protect your property, please let us know so we can add them to this guide.